INTERVIEW WITH.. BEARS FONTÉ OF OTHER WORLDS AUSTIN
---
Never one to turn down the opportunity to help out genre filmmakers out there, we're extremely happy to talk to Bears Fonté who is launching the first Other Worlds Austin – a new film festival focusing on all things science-fiction! Their regular deadline is September 1st, with their late deadline being October 1st. Formally ofAustin Film Festival, we caught up with Bears to see what's the scoop on his new venture…  
Tell us a bit about your job, and what you do…
I founded Other Worlds Austin after leaving Austin Film Festival, where I was the Director of Programming from 2012-2014. I quickly together some of my favorite people from my time at AFF, members of the screening team and former interns and set off to create something fresh and very much in demand in Austin, which I think is the 'Geek' capital of the world. In addition to being the Director of Programming for the festival, I over see all the logistics and write a great deal of material for our newsletter and website…. which I also designed. I hope soon to not have to do as much of that myself but we're starting small so it's not too much work and it's all exciting at this point.   The festival focuses on the science-fiction genre, which of course exists within other narratives, but it's rare to have a festival encompassing it solely as the backbone. How did it come about? In Austin we have the most important genre festival in the US, Fantastic Fest, but they do so much that isn't SciFi and more importantly they are so good at what they do, they've become an institution that makes the studio salivate. They are often a launching pad for huge productions and big star novelty projects. They rarely have room for truly independent films or films that have played a few other places on the film festival circuit. Austin is such a great SciFi town that I wanted to give filmmakers with those sort of films an opportunity to exhibit their films in a festival setting — right now, many of them are going directly to DVD or VOD without a chance to play before a live audience on the big screen in Austin.  
We know of you from your work with Austin Film Festival, where many of our clients have screened, and of course SXSW happens there too. Why do you think Austin is such a prominent place on the map for film?
Well, MovieMake Magazine says Austin is the #1 city in America to be a filmmaker. There are so many projects going on all the time, so the community is very large. Plus the non-filmmaking community is very supportive, and turn out for all sorts of repertory screenings at the Alamo Drafthouse or through the Austin Film Society.  Maybe part of it is Austin is a very young town, and growing. Lots of single people looking for things to do. We don't have the professional theatre that Chicago or New York have. Also, all the film groups and festivals in town are very smart – we all find our niches and program directly to them.  
With this being the first (of many we hope!) year, what can we expect? Can you tell us anything yet?!
We cannot announce any programming yet because we are still accepting submissions and want to put out the best festival possible. However, I've been surprised at the quality of the work we've gotten, being a first time festival, and there are several films I've been tracking through out the year as they play the festival circuit. I don't think they'll be right for Fantastic Fest or AFF, so hopefully they'll fall to us. It will be a small festival this year – 10 screenings, 7 features and 3 shorts programs, but every one will be an Austin premiere and every wristband holder has a guaranteed seat. We are only selling the exact number of wristbands that we have seats so no one gets blocked out. That's pretty fantastic for $45.  
What's your advice to someone who gets a rejection from a festival?
I'm a filmmaker myself, my last short got into 40 festivals. But was rejected by 85. You never know what a programmer is looking for and how your film fits into what they already have. But go to festivals and see films in your category (don't skip out on shorts!). Be honest with yourself about your film in relation to what you are up against.  But remember, there are like 1000 festivals out there, you can find a place to show your work. And it never hurts to drop an email to the programmer after the festival is over (not after the selection is announced, wait until they are not busy) and ask for any feedback they can give. The worst they can do is say no.  They won't remember you next year by name, so you are not burning bridges. I gave feedback to filmmakers every year at AFF and will again this year at OWA.  I don't know if they will continue the practice at AFF now that I'm gone, but I sent out my email address with the rejection letter every year. I was surprised how few filmmakers took me up on the offer.  
Tell us the best and worst part of your job.
The best finding amazing risk-taking filmmakers and being able to help them reach the next stage of their career, or just to simply connect them with an audience. I'm also really enjoying building something from the ground up and being, as former Texas Governor W. said, 'The Decider.' I'm trying to fix all the issues I've seen at other organizations now before Other Worlds Austin gets big enough that they happen here as well.  I guess the worst part is having to wait on the bigger festivals (like Fantastic Fest) make their choices so we can see what still needs an Austin Premiere. Also at AFF I had interns. Like a lot of them. I called them my Dark Legion of Interns and they were amazing. Other departments kept stealing them because they were so go.  I brought two of them on staff at OWA.  
Share with us one of your favourite films and tell us why you like it…
I'm going to give a shout out to FREQUENCIES, an amazing SciFi feature that I did the US Premiere of last year at AFF.  Set in an alternate reality where human frequencies determine luck, love, and destiny.One of the students, who has a record low frequency, falls for a girl with a record high frequency.The world seems to conspire to keep them apart, until he figures out a secret code to change his own internal frequency.It's a fantastic science fiction romance, which is one of these films with a whiplash ending where you have to watch it again immediately after it finishes.A special edition DVD and BluRay just came out August 14th on thefilmmaker's own website and you can find out more on our website too: http://www.otherworldsaustin.com/frequencies.  It's a mind-blowing film.
Thanks so much to Bears for taking time to talk to us on the blog, we wish him and all the Other Worlds Austin team the best of luck for their first (of many we hope) year. Check out their submissions guidelines and submit!   
Bears' bio: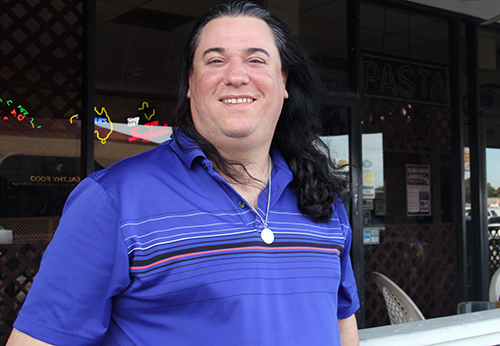 Bears Fonté is the Founder and Executive Director of Other Worlds Austin, a new festival in Texas' capital focused on SciFi.  Prior to that, Bears served as Director of Programming for Austin Film Festival from 2012-14, overseeing some 200 films selected to screen at eight venues over eight days.  The 2013 Festival saw 28 world premiere features and 7 films picked up at the festival or the week after.  His most recent short film, THE SECRET KEEPER, has been selected by over 35 US Film Festivals since September of 2012.  His feature thriller iCRIME, which he wrote and directed, was released on DVD, VOD and streaming by Vicious Circle Films in 2011.  Bears also self-produced two web-series which have been seen by a combined ten million viewers.  Prior to arriving in Austin, Bears wrote coverage for independent producers and coverage services in LA and placed in nearly every single screenwriting contest out there including Screenwriter's Expo, Final Draft Big Break, Page International, Story Pros and Austin Film Festival.  Bears received his BA from Carleton College in British Studies and Theatre Studies and a MFA in Directing from Indiana University and has directed over forty plays, including the Austin Critics Table nominee Corpus Christi, and the Austin Shakespeare Festival's Complete Works of Shakspeare Abridged. He studied writing with noted playwrights Jeff Hatcher and Denis Reardon, and directed the first-ever professional productions by Princess Grace Award-winning and Pulitzer Prize-nominated playwright Don Zolidis and up-and-coming playwright Itamar Moses. He is currently working on a new five minute short to submit to festivals in 2015.